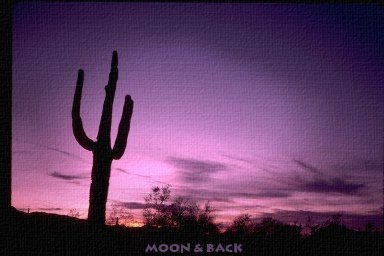 Shadows in the night
Softly call to me
Nature looms so beautifully
She speaks majestically

Stars are sparkling brightly
Winds are standing still
Spirits of the dreamers
Forever here at will


Silence in the beauty
That comes so deep within
Captured by the falling stars
The night will now begin

Bounty of the earth now
Fills the heart with sighs
Quiet peaceful spirits
Dance within these eyes


Earth now moving gently
Footprints lead to past
Heart is filled with wonder
These gifts will always last

Speak the world of beauty
The love the eye can see
Darkness of sweet mystery
Spirits touching me.


~ Francine Pucillo ~
Šused with permission
If you would enjoy using this poem on THIS BACKGROUND
set (it was written for it) just e-mail Ms. Pucillo by
clicking on her name and ask her permission.
Read more of her poetry here.





The wonderful midi, Buffalo Dance, is ŠElan Michaels and used with his permission. Visit his site HERE.


PLEASE READ THESE TERMS:
The set is link ware. You are welcome to use the set provided:
1) NO alterations of ANY kind are made to this set. That includes resizing,
cutting, mixing and matching with other sets, etc. You do not have to use all parts of the set if you do not need them and, of course, you do not have to set it up just as we have in terms of placement of items. BUT, no part of the set may be used with any other background set.

2) The logo must be placed ON the page of the graphics and linked back to
Moon And Back Graphics: http://www.moonandbackgraphics.com
3) It may not be used on a site with any commercial activities
4) Under no circumstances is this set to be used as stationery in e-mails. It may
not be used to make new graphics, or copied in any manner. If you use it on a Post card site the logo must be linked back and proper credit given. ALSO, the no right click protector code must be used on any post card site.

5) Absolutely NO REDISTRIBUTION of these graphics in any form.
This means that you may not put the set up on YOUR site and then GIVE IT AWAY to others!!!!!
~~~~~~~~~~~~~
Please see our DESIGN FEE page if you are in need of
personal and unique graphics.

The font is Lithograph
~~~~~~~~~~~
DID YOU KNOW...
only fonts that are EMBEDDED right in the GRAPHIC will be
seen as they are UNLESS the VIEWER also has that font. In other words, this font will be viewed correctly by everyone as it is embedded in the graphics....BUT, if you try to use it in the WRITTEN TEXT part of your page, it will only be viewed by those who also have the font on their computer.....so, I always use a font that is common to almost all systems for my text, such as the font you are reading now...Verdana, or Arial, etc. People are not going to stop and download a font to view your page.
DO NOT LINK DIRECTLY TO THESE GRAPHIC PIECES
This is called bandwidth stealing. It means that you are using the space that Moon And Back Graphics pays for. Download the graphics to your hard drive....build the page from there. NEVER link directly to a graphic.

UNDER NO CIRCUMSTANCES MAY THESE TILES BE USED FOR ANY PURPOSE OTHER THAN SETTING UP THIS VERY SET ~ nor may any part of this set be used to make other sets and claimed as your own creation
If you choose to use the float upload the dot to your file directory.
You may copy the code from my source for the float but please give the credit for the code to