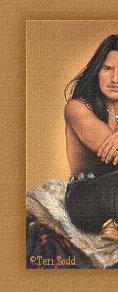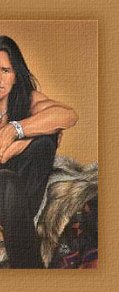 Spirits live within me
The souls that I will wear
Gathered from the wisdom
The ageless love to share



Wind across the mountains
Eagles flying high
Each an inspiration
I see within these eyes



Feathers bound by spirits
That fall from mighty sky
Voices of the sacred ones
Their destiny to fly



Spirits born with honor
Their footprints set so deep
Warriors of bravery
Forever hear them speak



Mother earth of beauty
Held respectfully
Land of all great nations
Hearts that shall be free



Peace and love to enter
With echoes of the past
Bravery with honor
In shadows now steadfast


~ Francine Pucillo ~
©used with permission
If you would like to use this poem on THIS GRAPHIC SET on your NON-POSTCARD, PERSONAL site just click on Ms. Pucillo's name to request permission. The poem was specifically written to accompany THIS graphic set. Read more of her poetry here:
POETRY~EMOTION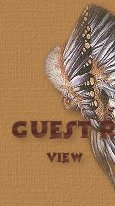 PAINTING:
The painting is by artist, Teri Sodd and used with her permission. The painting is a ©Teri Sodd. You may visit her wonderful site HERE, where she does have paintings for sale! If you choose to use this set it is MANDATORY that you display her logo.

MIDI:
The fabulous midi is composed by ©Elan Michaels entitled, Brave Warrior and used with his permission. You may visit is wonderful site HERE.
PLEASE READ THESE TERMS:
The set is link ware. You are welcome to use the set provided:
1) NO alterations of ANY kind are made to this set. That includes resizing,
cutting, mixing and matching with other sets, etc. You do not have to use all parts of the set if you do not need them and, of course, you do not have to set it up just as we have in terms of placement of items.

2) The logo must be placed ON the page of the graphics and linked back to
Moon And Back Graphics: http://www.moonandbackgraphics.com
Ms. Sodd's site: http://www.mountainartsgallery.com/index.htm
3) It may not be used on a site with any commercial activities
4) Under no circumstances is this set to be used as stationery in e-mails. It may not be used to make new graphics, or copied in any manner. If you use it on a Post card site the logo must be linked back and proper credit given. ALSO, the no right click protector code must be used on any post card site.

5) Absolutely NO REDISTRIBUTION of these graphics in any form.
This means that you may not put the set up on YOUR site and then GIVE IT AWAY to others!!!!!
~~~~~~~~~~~~~
Please see our DESIGN FEE page if you are in need of
personal and unique graphics.

The font is Tristan
YOU DO NOT HAVE TO SET IT UP IN THIS FORMAT

DID YOU KNOW...
only fonts that are EMBEDDED right in the GRAPHIC will be
seen as they are UNLESS the VIEWER also has that font. In other words, this font will be viewed correctly by everyone as it is embedded in the graphics....BUT, if you try to use it in the WRITTEN TEXT part of your page, it will only be viewed by those who also have the font on their computer.....so, I always use a font that is common to almost all systems for my text, such as the font you are reading now...Verdana, or Arial, etc. People are not going to stop and download a font to view your page.
DO NOT LINK DIRECTLY TO THESE GRAPHIC PIECES
This is called bandwidth stealing. It means that you are using the space that Moon And Back Graphics pays for. Download the graphics to your hard drive....build the page from there. NEVER link directly to a graphic.

UNDER NO CIRCUMSTANCES MAY THESE TILES BE USED FOR ANY PURPOSE OTHER THAN SETTING UP THIS VERY SET.
PICK UP YOUR ZIPPED FILE HERE.